Non-stick cauldrons
If you are looking for a simple and versatile cookware for the kitchen or outdoor holidays, then the non-stick aluminum cauldron is the best solution. Thanks to its time-tested shape, thick walls and high thermal conductivity, the food in it turns out very tasty. Moreover, it's not just about classic pilaff or other eastern dishes – non-stick aluminum cauldrons are suitable for implementing a variety of ideas and recipes.
The key feature of all representatives of the "Lux" product line is a strong layer of internal non-stick coating from the world's leading manufacturers - GREBLON, WHITFORD, AKZO NOBEL. These materials have high thermal stability and mechanical strength. For application, we use the spray method, which ensures the durability of the products.
 Another feature is the external coating of glass enamel. It gives the dishes beauty, decorativeness and resistance to mechanical and thermal damage. As a result, non-stick aluminum cauldrons retain their original appearance for a long time and are easy to clean.
Aluminum non-stick cauldrons – the main features
Cast cookware made of food-grade silumin alloy not only warms up quickly, but also retains heat well. This feature allows you to use non-stick cauldrons made of aluminum to perform different actions and carry out stages one after another, without shifting the products. The use of our dishes allows you to forget about overcooked or too greasy food, because several layers of high-quality non-stick coating completely eliminates this possibility. In addition, thanks to the non-stick quality of our cookware, you can not only cook food, but also store prepared dishes for a certain time.
Special attention should be paid to the shape of the utensils. The flat rounded bottom on the sides provides a convenient installation and preserves the heat transfer characteristics. Aluminum non-stick cauldrons can be used both in the oven or on the stove, and on the open fire. Small holes are provided in the cast handles for hanging over the fire. The dishes are equipped with a cast lid and a handle made of bakelite.
Non-stick cauldrons wholesale and retail
Reliability, quality and safety are distinguished features of  non-stick cauldrons made by TM Silumin. Thanks to the high usage characteristics and convenient design, our dishes are perfect helpers in any conditions: in the kitchens of cafes, restaurants and other public catering establishments, in household use and on tourist trips. Models with a volume of 2 to 15 liters are available for ordering.
If you need non-stick cauldrons wholesale, you should fill out the form at the bottom of the page so that we can contact you at a convenient time or call us back at the phone numbers listed here. If you want to order individual products, go to our online store.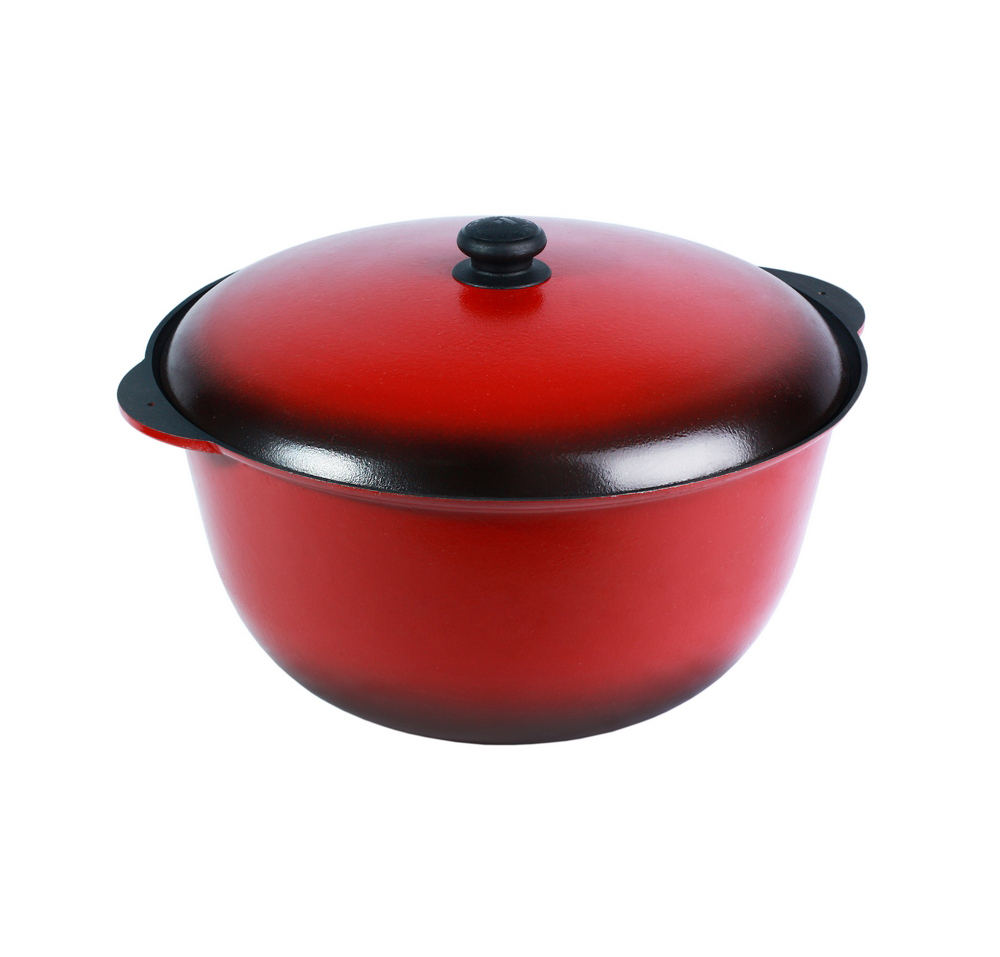 | Article | Volume, L | Diameter, mm | Height, mm | EAN code |
| --- | --- | --- | --- | --- |
| ЛК15 | 15,0 | 390 | 195 | 4820149870632 |
| ЛК12 | 12,0 | 330 | 195 | 4820149870649 |
| ЛК10 | 10,0 | 300 | 190 | 4820149870656 |
| ЛК08 | 8,0 | 280 | 172 | 4820149870663 |
| ЛК06 | 6,0 | 260 | 155 | 4820149870670 |
| ЛК04 | 4,0 | 240 | 120 | 4820149870687 |
| ЛК03 | 3,0 | 220 | 104 | 4820149870694 |
| ЛК02 | 2,0 | 185 | 96 | 4820149870700 |