Granite-coated braziers
The versatile and practical granite-topped brazier is a great purchase for any kitchen. Due to the design features, it can be used both on the stove and in the oven. You can cook a variety of dishes, stew, boil, bake, simmer and fry with one of these utensils. Juicy meat, crumbly potatoes, tender chicken and fragrant Eastern pilaf - cast braziers with granite coating will cope with any task, and the result will pleasantly surprise even the most skilled housewives.
The main feature of all representatives of the "Granit" product line made by TM Silumin is the presence of a modern, reinforced composite coating. It has a number of positive qualities, including high non-stick characteristics, safety, durability and environmental friendliness. That is, by purchasing aluminum braziers with granite coating, you don't have to worry about the degree of roasting and the need to use a large amount of oil – in our cookware, food does not burn and always pleases with its delicate nad natural taste. The practical shape and rather massive wide bottom allow you to alternate different processes, for example, pre-sautéing or quick roasting, followed by stewing or simmering in the oven.
Aluminum braziers with granite coating - the main features
Unlike pans, saucepans or cauldrons, granite braziers made of aluminum have a thicker, wider bottom and high side walls. The combination of cast food-grade silumin and a damage-resistant granite layer ensures high thermal conductivity and a calm, equal heating. Instead of one long handle, like a frying pan has, there are two cast handles, which allows you to use them in the oven, stove and on an open fire. All aluminum braziers with granite coating are necessarily equipped with a volumetric lid, which keeps the steam inside well enough and thus provides optimal conditions for heat treatment.
Granite braziers wholesale and retail
Recently, dishes with reinforced granite coating are in high demand, because their light weight, stylish appearance, strength and high operation characteristics make them the most useful purchase for the kitchen. We offer granite-coated braziers from the manufacturer in three sizes with diameters of 24, 30 and 42 cm, which is relevant for both home and commercial applications.
If you want to order granite-coated braziers wholesale or get a consultation, you need to fill out the form or call us back at the specified phone numbers. If you want to purchase individual products, you need to go to our online store.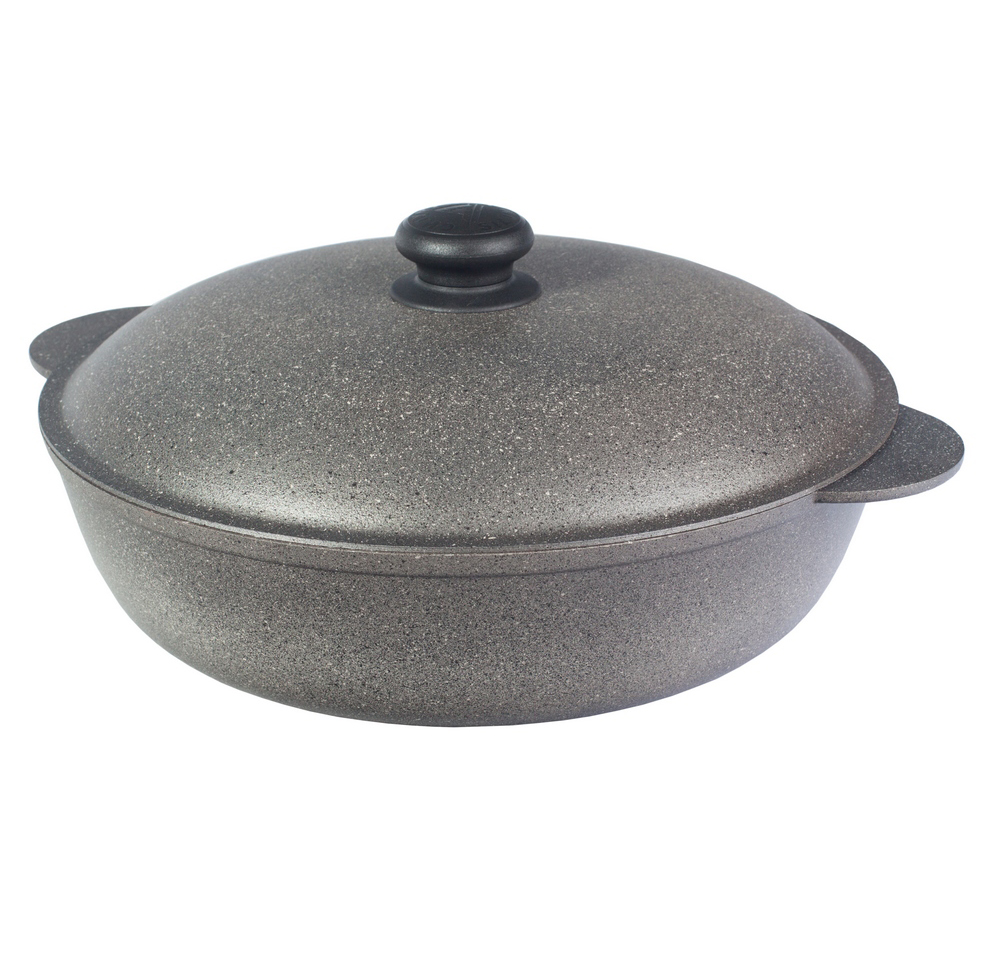 | Article | Diameter, mm | Height, mm | EAN code |
| --- | --- | --- | --- |
| ГЖ30ук | 300 | 80 | 4820149874357 |
| ГС30ук | 300 | 65 | 4820149874364 |
| ГС24ук | 240 | 65 | 4820149874371 |