Non-stick goose cookers
A large and delicious goose on the table, a duck with apples and a tender chicken is the dream of any housewife, so an aluminum non-stick goose cooker is needed in every home. It is not only the basis of a healthy diet, but a constant supplier of delicious dishes, both for the holiday and for every day. How often do you cook poultry?
Indeed, many housewives miss the opportunity to pamper their family and guests just because they do not have a goose cooker with a non-stick coating. Our cookware provide the best conditions for cooking thanks to the equal heating, high thermal conductivity of cast silumin and high-quality non-stick layer from the world's leading manufacturers - GREBLON, WHITFORD, AKZO NOBEL. No less attention should be paid to the appearance of the dishes. Like all representatives of the "Lux" product line, non-stick aluminum goose dishes are covered with glass enamel on the outside. Its elegant warm red color will decorate your kitchen, and its resistance to mechanical influences will prevent the appearance of fractures, scuffs, scratches and stains.
Aluminum non-stick goose cookers – the advantages of our cookware
One of the main advantages of this dish is its unusual, oval shape and excellent operational characteristics. The extensive body allows you to place a whole bird of any size. You can also prepare meat stews, stewed vegetables and fish dishes in the goose cookers from TM Silumin. And what delicious holubtsi (cabbage rolls) they make!
The aluminum non-stick goose cooker is a flexible cookware, which you can use for cooking a large amount of food at a time. The thickened bottom, the walls, and the tightly fitting lid create ideal conditions for heat treatment inside, so it is suitable for both pre-frying and for long-term stewing or simmering. It can be used in an oven or on an open fire. Two cast handles are provided on the product body for convenient usage.
Non-stick goose cookers wholesale
The combination of practicality and functionality makes the non-stick goose dishes from the manufacturer one of the best solutions for both public catering enterprises and for the home. Beautiful, comfortable and useful, they will also be a good gift for a holiday.
If you want to order non-stick goose cookers wholesale, you need to fill out the form at the very bottom of this page or just call us at the phone numbers listed here. If you need a set of several products or single copies - we invite you to go to our online store.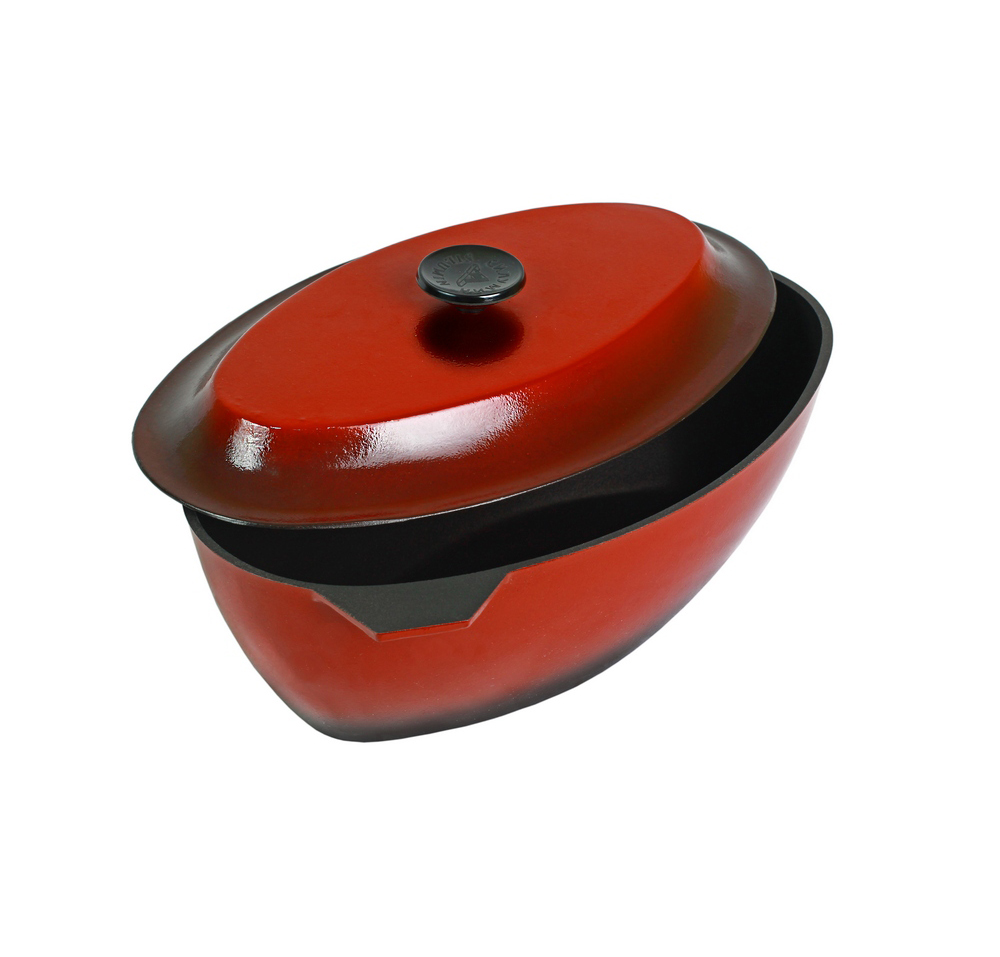 | Article | Volume, L | Size, mm | Height, mm | EAN code |
| --- | --- | --- | --- | --- |
| ЛГ05 | 5,0 | 360 х 220 | 120 | 4820149870748 |
| ЛГ03 | 3,0 | 305 х 185 | 105 | 4820149870755 |