Aluminum goulash pans
Unusual dishes called goulash pans are quite rare, but welcome guests in our kitchens. However, do not forget that only the use of special dishes allows you to get the real taste of national dishes, and goulash is no exception. The basic principles of heat treatment require a special, streamlined shape that ensures constant heating without the presence of excessive liquid. People often use a cauldron or similar utensils for the preparation of goulash and other national dishes, but this rarely gives the desired result, so our company decided to correct this omission.
 Aluminum goulash pans, designed by our specialists, have a square shape, thick walls and a tight-fitting lid. They perfectly turn out spicy, juicy and fragrant goulash, stew and other national dishes. The simple, compact shape and large enough volume allow you to use goulash pans for different purposes – they fit perfectly in the oven and do not take up much space.
Aluminum goulash pan is a great helper in culinary experiments
The soft, rich taste of the dishes, as well as the complete preservation of vitamins and nutrients when using such dishes, are explained by the combination of design and material. Our production of aluminum goulash pans is based on classical casting methods. For this type of cookware, high-quality food silumin is used, which meets all the requirements for safety and environmental friendliness. Precise compliance with the casting technology allows you to preserve the structure of the metal, which is important to ensure excellent thermal conductivity of silumin.
We paid special attention to the shape of the dishes. Deep, voluminous aluminum goulash pans with a thickened bottom, dense walls and comfortable handles are best suited for stewing, roasting or simmering food on an open fire, in the oven or on the stove. The convenient square-shaped lid with an aluminum handle completely follows the outline of the main container and fits snugly, leaving no gaps. In addition, the square shape of the goulash pans saves a lot of space in the refrigerator and in the drawers for storing cookware. The standard capacity of 1.5 liters at a height of 9.3 cm is optimal for this type of product.
Aluminum goulash pans wholesale and retail
Unusual and at the same time practical dishes will be an excellent purchase for restaurants, cafes and establishments with a focus on national dishes. Aluminum goulash pans are not less relevant for household use. Moreover, it can be a great gift.
If you need high-quality and convenient dishes – we offer to buy goulash pans wholesale. You can order these and other products simply by filling out the form at the bottom of this page or by contacting our managers at the specified phone numbers.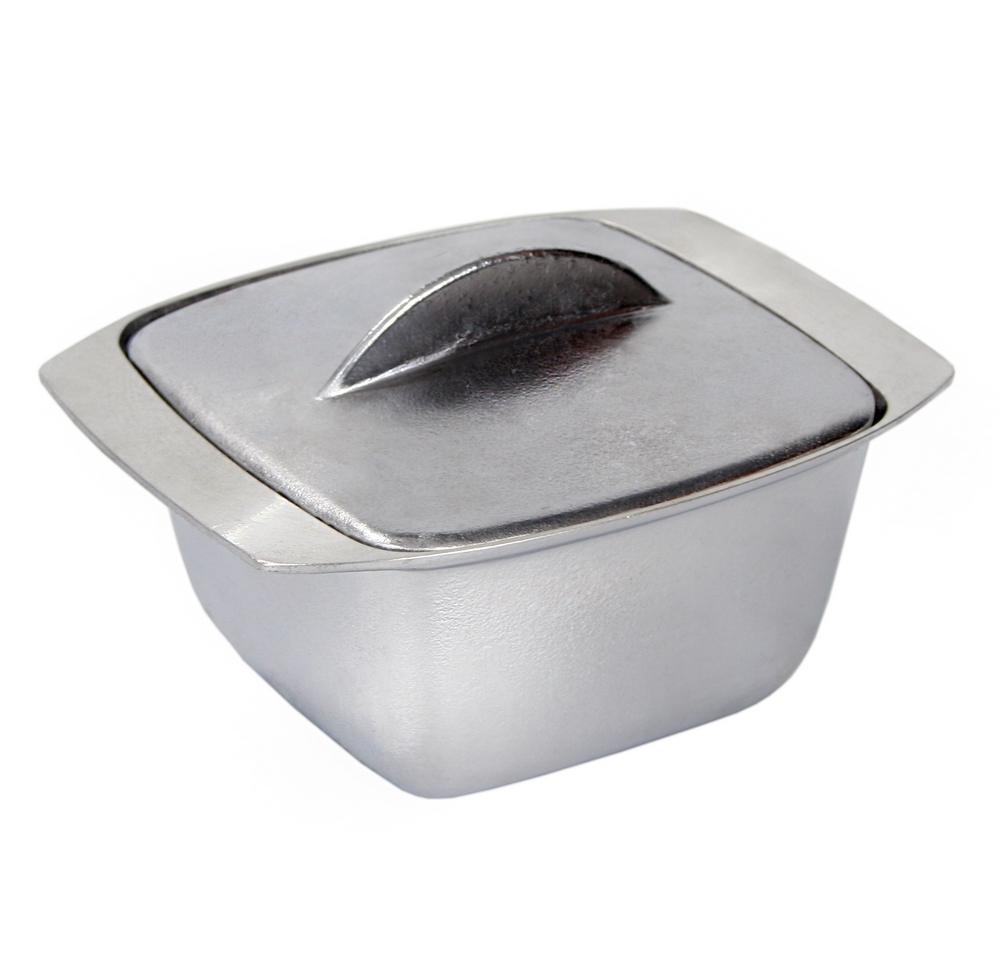 | Article | Volume, L | Size, mm | Height, mm | EAN code |
| --- | --- | --- | --- | --- |
| БГ1,5 | 1,5 | 170 х 170 | 93 | 4820149870151 |