Aluminum goose dish
The goose dish (covered pan for roasting geese) must be in every house where they love to cook and know a lot about delicious and healthy food. Dishes of this type have a recognizable, oval shape and a considerably large volume. Traditionally, such utensils, which are sometimes also called duck dish (roasting pan for preparing ducks), are used for roasting, simmering and stewing geese, ducks and chickens in the oven.
 We are very often asked – why do we need goose dishes, if you can use an ordinary cauldron instead of them? The oval shape provides optimal conditions for cooking goose or duck whole, sufficient, but not excessive amount of liquid and the most comfortable roasting process. In addition, due to its round shape, an ordinary cauldron is inconvenient for placing such a large bird as a goose.
The aluminum goose dish will successfully replace the cauldron. Light, voluminous, it is more useful, because in addition to geese, ducks and other birds, you can cook golubtsi (stuffed cabbage rolls), stews, roast meat, beef, lamb in its own juice, vegetables on skewers, eggplants and many other dishes that require prolonged heat treatment and compliance with special conditions.
Aluminum goose dish – key features
Unlike cast-iron cookware, aluminum goose cookers are much more convenient to use. At the same time, despite the small weight of such dishes, all the necessary characteristics remain similar. Good thermal conductivity, sufficient thickness of the walls and bottom, non-stick coating allow you to cook large poultry and other dishes efficiently and without problems. Special attention should be paid to the lid – the shape of it completely repeats the body of the goose, has about the same thickness and fits snugly to the sides. Aluminum goose cookers from the manufacturer have convenient handles that allow you to remove dishes from the oven with no problems. Besides, our goose cookers are perfectly adapted to the internal dimensions of standard household ovens.
The purchase of such products is always so-called "for the ages" purchase, because they do not break, do not deform and do not chip when falling, as on cast iron dishes.
Goose dishes wholesale - what you should pay attention during ordering?
Modern production of aluminum goose dishes is based on the use of high-quality food-grade aluminum, which is poured into molds in molten form. After cooling, the workpiece is removed and processed to produce an inert layer of aluminum oxide. Thus, the models presented here fully comply with all the standards and sanitary requirements for this type of cookware.
Two sizes are available for ordering – for 3 and for 5 liters, so when choosing, you should rely on the required volume and wall height. We offer aluminum goose dishes wholesale, to order, you need to fill out the form on this page, write or call back at the specified phone numbers.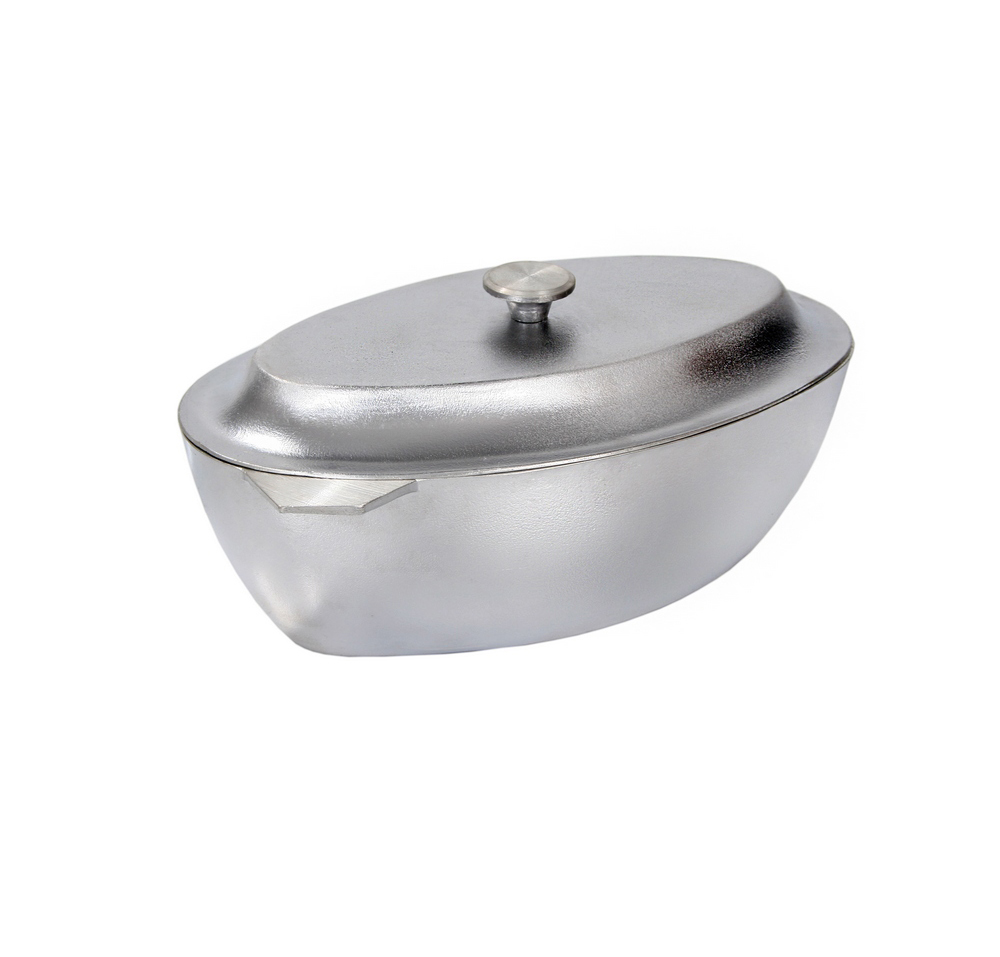 | Article | Volume, L | Size, mm | Height, mm | EAN code |
| --- | --- | --- | --- | --- |
| БГ05 | 5,0 | 360 х 220 | 120 | 4820149870137 |
| БГ03 | 3,0 | 305 х 185 | 105 | 4820149870144 |