Tatar cauldrons with granite coating
Tatar cauldron with granite coating will help you to learn the secrets of Middle Eastern cuisine and cook a real Uzbek pilaff. You will even cook professional dishes with such utensils, because the main condition for success is strict adherence to the sequence and the correct temperature regime. Thanks to the special design, our aluminum Tatar cauldrons with granite coating provide ideal conditions for pilaff to gain the necessary amount of oil and not be either dry or watery, and basma, lagman or kazan-kebab are soaked in meat juice and stewed according to all the rules.
Cookware of the 'Granit' product line are distinguished by an eco-friendly and safe reinforced composite coating. Several layers of QUANTUM granite coating from the world-famous manufacturer WHITFORD are applied directly to the prepared surface of the cast silumin case. It does not react with acids and alkalis, does not peel off and provides excellent non-stick properties. Tatar cauldrons with granite coating from the manufacturer can be used on the stove, in the oven and on the fire, but for the latter a special stand should be purchased.
Tatar cauldrons with granite coating - features of the traditional form
The combination of several layers of granite non-stick and cast silumin housing ensures optimal wall thickness and high performance. The Tatar cauldron with a granite coating is an ideal cookware for quick pre-roasting and subsequent long-term heating. Its unusual, rounded shape is dictated by centuries-old traditions and features of the recipe of Eastern dishes. The thickened bottom gradually passes into the side surfaces, which gives an increase in the heating area, just like in the famous Chinese WOK pans.
TM Silumin produces Tatar cauldrons, the granite coating of which is applied by spraying. For consumers, this means a long service life of the products, easy surface cleaning and complete safety, as the composite coating is characterized by high strength.
Tatar cauldrons with granite coating wholesale and retail
Low weight along with thickened walls, high-quality external and internal solutions, two pairs of comfortable handles and a massive, tight-fitting lid distinguish our products from other analogues. The Tatar cauldrons with granite coating presented here have proved to be excellent both in professional kitchens and in home use. Three sizes of products are available for ordering at once – for 4, 6 and 12 liters.
If you need Tatar cauldrons with granite coating wholesale, you need to fill out the form or call us back. If you want to order individual products, then we invite you to visit the online store.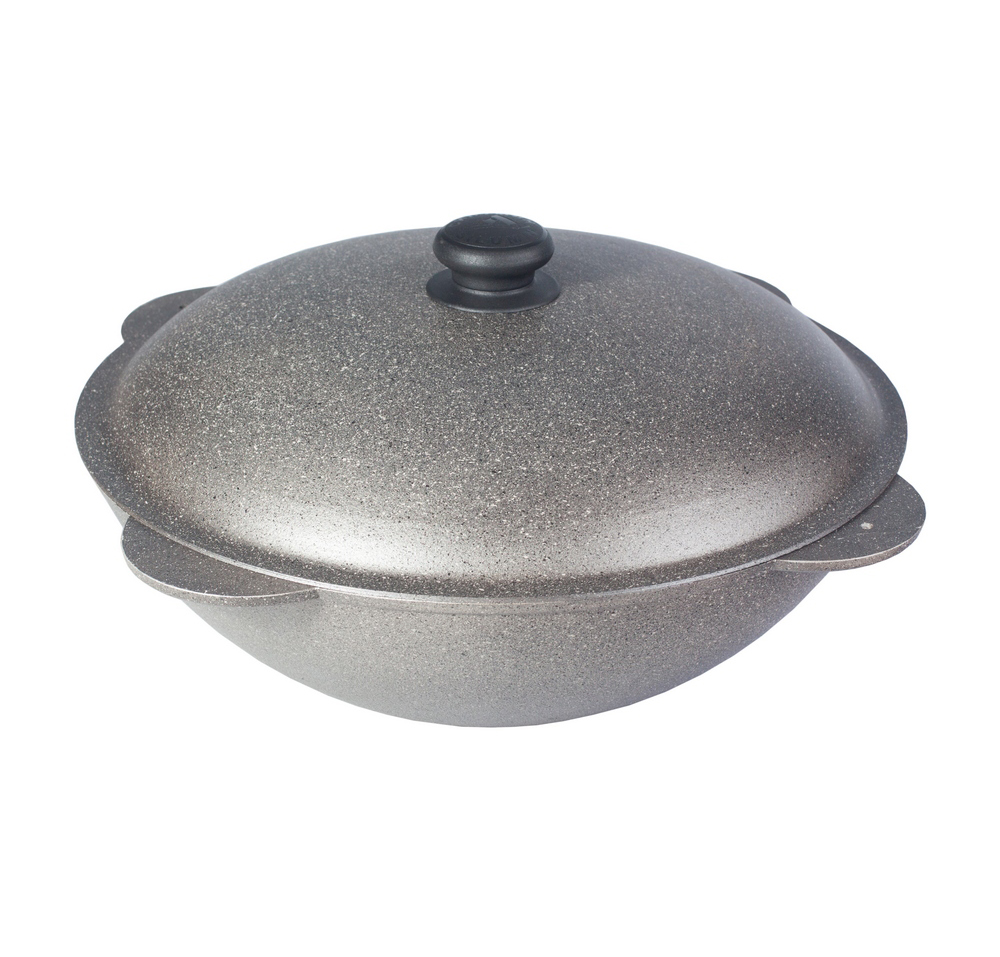 | Article | Volume, L | Diameter, mm | Height, mm | EAN code |
| --- | --- | --- | --- | --- |
| ГКТ12к | 12,0 | 420 | 150 | 4820149874234 |
| ГКТ06к | 6,0 | 330 | 120 | 4820149874241 |
| ГКТ04к | 4,0 | 300 | 105 | 4820149874159 |