Granite-coated goulash dishes
Cast goulash dishes with granite coating are the best choice if you need a roomy, portioned dishes for the oven or oven. The goulash prepared in it is very close to its Hungarian relative in its taste. Its rich, deep taste and bright aroma is the result of a combination of ingredients and features of heat treatment. The practical square shape with a height of 9.3 cm is also perfect for baking or stewing meat, fish and vegetables. It is especially good for beef stroganoff, casseroles and potato dishes.
The key feature of the goulash dish with granite coating from TM Silumin is the reinforced composite coating QUANTUM from the world-famous manufacturer WHITFORD. It is applied to the surface from the outside and inside, which provides excellent non-stick properties, as well as durability. According to its characteristics, the aluminum goulash dish with a granite coating is very similar to cast iron, but it weighs much less, retains its original appearance for a long time and is not so capricious in care. The durability and environmental friendliness of the granite coating ensure safe and convenient usage.
Aluminum goulash dish with granite coating - design features
The shape and size of these dishes guarantee the best results and compliance with time-tested heat treatment conditions. Aluminum goulash dishes with a granite coating are made by casting from food-grade silumin alloys, so their walls are thick enough, they warm up quickly and keep heat well. Cooking in them is just a pleasure, the utensils are of high-quality, durable, resistant to deformation and temperature influences. On the body and cover of the product, comfortable, molded handles are provided.
The square shape of the dishes and their overall dimensions -17x17 cm - allow you to install several dishes at once in the oven or stove. Thus, goulash dishes with granite-coated aluminum can be used for cooking various courses, which is important for many public catering establishments and for home cooking.
Goulash dishes with granite coating wholesale and retail
Convenient and practical dishes always enjoy attention. The thickened bottom, uniform heating and natural non-stick coating ensure a high demand for all products of the 'Granit' product line. Our granite goulash dishes made of aluminum are bought for home use, for cafes and restaurants, as well as for a gift.
If you want to buy goulash dishes with granite coating wholesale, you need to fill out the form or just call us at the phone numbers listed here. If you want to order individual products or select sets, then we invite you to visit our online store.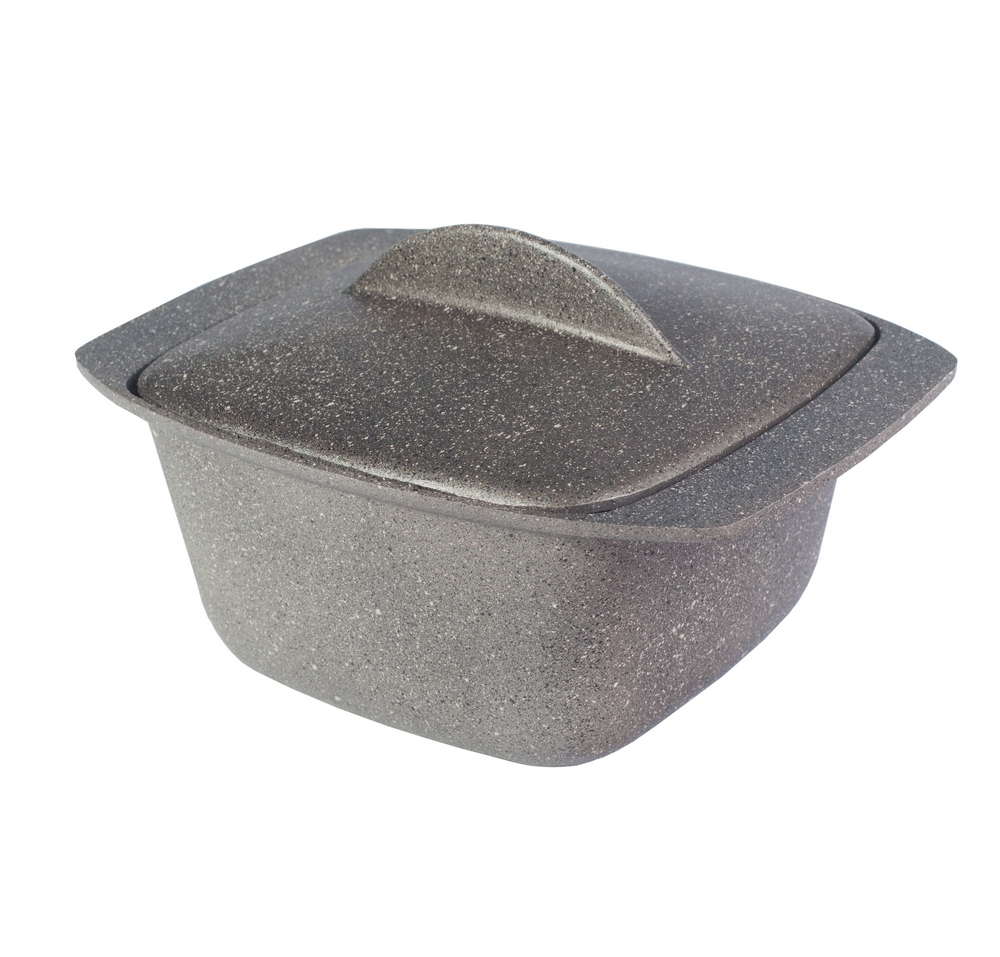 | Article | Volume, L | Size, mm | Height, mm | EAN code |
| --- | --- | --- | --- | --- |
| ГГ1,5 | 1,5 | 170х170 | 93 | 4820149874562 |