Enameled cauldrons
The classic enameled aluminum cauldron is a real friend and helper in any kitchen. You can easily prepare a huge number of different dishes in it, ranging from soups and stews and ending with vegetable preparations for the winter. The simplicity and versatility of such dishes put it on a par with pans, pots and ladles. The reason is they are the first things, which the owners buy for their kitchen. 
The key feature of the dishes presented here is a layer of outer glass enamel -a strong decorative and protective coating. Thanks to it, our enameled aluminum cauldrons retain their elegant appearance and resistance to mechanical damage and temperature deformations for a long time. They are often purchased complete with pans and pots – all these products look very beautiful in the set. Extensive enameled cauldrons are also relevant for those who like outdoor activities, fishing and long hikes – in the cast handles there are holes for mounting over the fire. Fish soup, porridge, stew and other dishes come out just amazing in this cauldron. 
Why should you chose the cast enameled cauldrons made of aluminum?
All dishes of the "Enamel" product line are made by casting from high-quality silumin alloys. The aluminum oxide layer reliably protects the walls from sticking food particles and ensures complete safety of the prepared dishes.
The enameled cauldrons presented here provide the best conditions for cooking sauté, stew, meat, vegetables and fish. They are strong, comfortable, keep the heat well and can be used both for pre-fast frying and for long-term heat treatment, for example, for stewing. The shiny red layer of glass enamel not only reliably protects the outer surface from damage, but also is easy to clean. The massive, close-fitting lid ensures uniform temperature distribution and optimal conditions for heat treatment, so the products retain their taste, juiciness and aroma as much as possible.
Enameled cauldrons wholesale and retail
Thanks to the universal, time-tested design and safe materials, our aluminum-enameled cauldrons are purchased for cafes, restaurants, tableware stores and, of course, for the home. Therefore, introducing the production of enameled cauldrons, we have provided a wide range from 2 to 25 liters (EK 02 - EK 25).  If you plan to order enameled cauldrons wholesale, you need to fill out the form below or call our managers at the phone numbers listed here. If you want to order a set or several utensils, you should follow the link to our online store.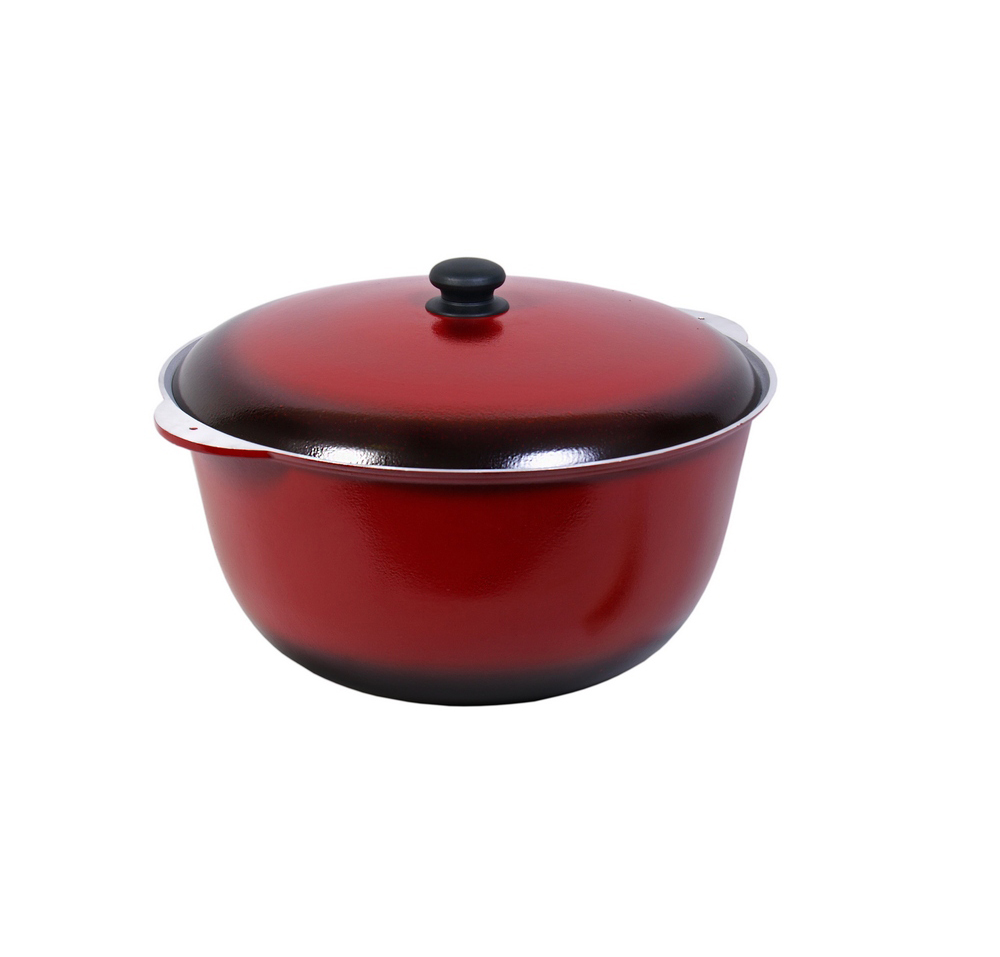 | Article | Volume, L | Diameter, mm | Height, mm | EAN code |
| --- | --- | --- | --- | --- |
| ЭК25 | 25,0 | 420 | 258 | 4820149871684 |
| ЭК15 | 15,0 | 390 | 195 | 4820149871691 |
| ЭК12 | 12,0 | 330 | 195 | 4820149871707 |
| ЭК10 | 10,0 | 300 | 190 | 4820149871714 |
| ЭК08 | 8,0 | 280 | 172 | 4820149871721 |
| ЭК06 | 6,0 | 260 | 155 | 4820149871738 |
| ЭК04 | 4,0 | 240 | 120 | 4820149871745 |
| ЭК03 | 3,0 | 220 | 104 | 4820149871752 |
| ЭК02 | 2,0 | 185 | 96 | 4820149871769 |